THE ARTIST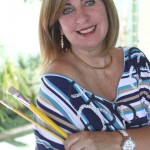 Carmen Fraga is a teacher by formation, with a degree in Tea­ching and Educational Guidance at Gama Filho University (Rio de Janeiro, Brazil).
Since 1984, dedicates herself to painting, presen­ting her works in both solo and collective exhibi­tions. Achieved the 1st place on Brazilian Navy Ministry's 2001 exhibition, with the painting "Novas Conquistas". ["New Conquests"]
She is also licensed as professional artist by the Secretary of Education and Culture of Distrito Federal (Brazil), since 1988 engaging herself to the formati­on of new talents as well as consolidation of experienced artists.
Ever since, several of her students have been rea­ping rewards, whether and taking participation in solo or collective shows, or simply expressing their own talents as a hobby at spare times.
THE STUDIO
You can express your creativity by painting on canvas, for sure! And it's easier than you might even ex­pect.
At Carmen Fraga Studio, concepts such as light, observation, tex­ture, volume, shape, trait and all further con­cepts that seem often apart become part of everyday life in a simple, fun, educational and relaxing way.
Each student develops their artistic potential through mixed media by using alternative materials (plaster, acrylic, marble dust and collages). All materials are provided by the studio (except for the canvases, which can be purchased at the Studio's facilities), so that students can create their works.
At Carmen Fraga Studio, each artist – child, teen or adult – is free to express their own personal universe in colors.
Having the long experience of dealing with chil­dren, teens and adults, Carmen Fra­ga Studio presents the world of painting according to what each student want.
It's easy to add color to your life.
And who knows, you could still hold an exhibiti­ on of your own works, in the future!